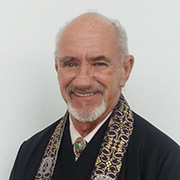 Reverend or Shaku
As some of you know I have requested that, if you want to address with a title, that you do so with the word "Shaku." 
I understand why the title, "Reverend" is and was used as a title for Shin ministers, especially after WW II, in an effort to make Jodoshinshu Buddhism appear less foreign to the general population.  A practical move in light of the lingering prejudice after the war.  
For me though, today, it is a question of definitions and I speak solely for myself here. 
Reverend means, one who is to be "revered," while Shaku, a Sanskrit word, means, "disciple of Buddha".   You might recognize the word from your Buddhist name if you have received one.
While my ego would dearly love to be "revered" and be "highly respected",
I know that I am not worthy of such a title, this is not false modesty, this is fact.
I feel that such a title fosters separation between myself and the rest of the Sangha, as if I were someone special, I am not.  I am, as Shinran put it, a dogyo or dobo, a fellow traveler on the Shinshu path.  I am travelling with all of you as part of the Sangha.
I am not trying to make a mountain out of a mole hill here.  I am not trying to start a movement or anything, nor do I think of myself as a monk, I am a Shin Buddhist priest. 
Any respect I am afforded by anyone, I expect to earn, and not receive it just because I wear a black robe and wagesa.  As far as any other ministers are concerned, I shall address them in whichever form they are addressed.
I hope this clarifies why I chose, Shaku.
In Gassho, Art Kaufmann
Patience and Strength
May 2020
Shaku Art Kaufmann
We are now in the fifth or sixth week of the shut-down which was necessitated by the Coronavirus and your efforts in dealing with it, the social distancing; staying at home etc. here in Kauai has been, and continues to be, effective in containing this virus and protecting each other.
 Now comes the time for patience.  While I see other parts of the country opening up I fear an even worse outbreak of this virus.  Like little children, I see people longing for their candies and other activities in the face of this pandemic which is not over yet.   This would result in a wider spreading of the virus.  I, being in the most vulnerable group as many of us are, would not like to see that.  After having made so much progress against it, Greed is reasserting itself in our society.  The Three Poisons of Greed, Anger and Ignorance are always waiting for an opportunity to emerge and take advantage.
As I said though, this is the time for patience, what kind of patience?  Look to your religious teachers.  Look at Shinran who dared to continue his teaching activity while in exile.  His life situation drastically changed and yet he was patient enough to see it through and continue spreading the Nembutsu teachings.  Like Shinran's exile, our present situation will end or modify so we can return to some sense of normalcy, whatever that will be.  Like Shinran's exile, it did not end after a few weeks' time, neither will this pandemic.  Shinran had to adapt to a whole new set of circumstance, a whole new life style, a whole new survival and with patience and strength, he did so to end of his exile.
Look at Rennyo-sama our esteemed 8th Abbot and his life.  Wow, he had to lose his mother due to the difference of status between himself and her.  He paid a terrible price over the years for his dedication to the Nembutsu dharma, yet he never gave up despite the formidable opposition and oppression he faced from other schools.  Rennyo's patience and strength brought him success and accomplishment that resulted in him being remembered and venerated to this day.
Siddartha Gautama, who after having left his royal existence to find out why we suffer so, gave six years of his life to finding the answer and when he did find the answer, spent the remainder of his life trying to teach the unteachable dharma he had entered into.  Through his abilities as a Buddha he found various ways to teach us to alleviate our sufferings and find Enlightenment.  What kind of patience and strength did that take? 
Patience and strength is what we need now as the fight against this virus continues.  Our healthcare professionals in the forefront of this battle while under-equipped and yet they are asked to risk their lives for us.  The very least we can do is be patient and strong until they get the upper hand in this pandemic.  Let us employ the same patience and strength shown by our religious heroes.  After all, what's really important,  $$ or our lives?  Time for a reality check!  Namoamidabutsu
Here and Now
April 2020
Shaku Kaufmann
I am heartened by the responses of our local government leaders and most of the public during this time of crisis.  Bishop Matsumoto has been at the forefront of this situation and has put out three letters concerning preventative measures that can be taken and other information regarding operations. 
Our Sangha members and those of other temples are announcing cancellations of our beloved activities such as the Bon Dance Season and our weekly services.  This is unavoidable and is being done for the protection of our Sanghas and our communities throughout our beloved home of Hawaii. 
It will be necessary to change the way we do things here.  It won't be easy, we are a physical culture but we must find new ways of expressing our Aloha to each other, no less sincerely than we have in the past.
I am confident that you have seen and understand and are using the preventative measures that have been publicized.  There is also "social distancing" which is encouraged, a 3 to 6 foot distance between each other.   I realize that this will be difficult given the nature of our Hawaiian culture of embracing each other, but for now we must adapt to the realities of this crisis. 
How long will it be?  No one knows just now, but the situation will change, we just do not know when.   The whole world is working on a vaccine to combat the effects of this virus but of course, it will take time to develop such a vaccine. 
I have heard that the country of England is offering a reward for any young healthy people to come to England, free of charge, to be injected with the virus in order to develop a vaccine.  Young heathy persons have a much higher chance of survival.  
There is also news that the number of infected in China at the source of the virus has not grown.  This is good news.
There is a myriad of information about the virus and preventative measures to be taken against.  This will continue as time goes by and more is learned about the virus but please be cautious as to the source of the information as there has been some unreliable and misinformed information going around.  
Rev. Kiyohara over on Maui at Makawao Hongwanji Mission has made available a poster he created on the computer.  It shows a rainbow wisteria crest with the words below it that say "Stay calm and say Namoamidabutsu".  This of course is to help prevent panic.  As Shin Buddhists it is very good advice.   Living in the now, as we strive to do, the virus is a fact of life for all of us today and we shall do what is necessary to protect from, and prevent, the spread of this virus even if it means making changes to our life styles.
In closing I would like to relate something about social distancing said by a world famous chef In the United States who was named the 2018 Humanitarian of the Year by the James Beard Foundation..  His name is Jose' Andre's.  Mr. Andres has a number of restaurants from which he helped many people in difficult situations such as the hurricane victims in Puerto Rico and at other such events.  His generosity and compassion is well known.  Mr. Andres, given the present situation, has closed his restaurants and is converting them into kitchens in order to be able to feed those in need.  He was quoted as saying "In this moment, loving each other means staying away from each other."
Namoamidabutsu.
Openness
March 2020
Shaku Arthur Kaufmann
Openness is the second part of this year's motto, the first was generosity. What do we mean by openness?  I guess it could mean openness to new experiences.  Here a Lihue Hongwanji Mission we are trying out a new form of Board of Directors after years and years of the previous form we had.  We did not have to but it seems to have its benefits in size and efficiency, so we decided to try it.
The old style Board consisted of about 25 people yet they were open enough to try this new form.  Of course there are folks who might say "if it aint broke, don't fix it.  I have seen that attitude in some pretty surprising places. 
Openness can also refer to learning new things.  When I was studying Aikido my instructor was very wise about how he introduced it.  He knew that many of us new students had practiced other arts, sometimes for years, but he asked us to leave all of that knowledge outside the dojo before we came in.  In other words he wanted us to nurture an "open mind", a form of openness to learning this unfamiliar art so as not to create confusion.  We later learned just what an important principle an open mind was in the art of Aikido.  To be able to accept what comes to us as martial artists or human beings.
My teacher thinks that if the principles that guide the learning of a martial art are not applicable to everyday life, it was not worth studying, a remarkable thought!
Openness can also be shown in the adoption of new ideas.  There is a committee that is working of possible changes to the service order, that could be interesting. 
Ms. BJ Soriano of the Big Island heard the people complaining about the old songs we have been singing for years in the temple and she's been doing something about it by writing new ones and though it takes practice, people are open to learning them.
Many of the sangha are concerned about dwindling members in our temples and express the need for new members.  Now this can be a form of openness if it is an inclusive statement, allowing for the entrance of different ethnicities.  Some people will say they want new members but what they are really saying is we they want new members like us, (ie Japanese Americans).  This attitude can be understood on some level, but if you look at the Buddha's teaching, regardless of what country any particular country they were developed in, you can see that the teaching Shakyamuni Buddha left behind were universal, for all of us.  The Buddha's Dharma deals with the suffering of all humankind, not just Indian, or Chinese, or Korean or Japanese suffering, but of all human suffering.    
I guess, generally speaking I am talking about openness to change, in all its forms.
To do this we all have to step beyond the influence of the Three Poisons of Greed, Anger and Ignorance.   Let us all strive to do so so that we may develop openness in our hearts and minds.
Namoamidabutsu
Generosity
February 2020
Shaku Arthur Kaufmann
We recently had a meeting of the Commission of Buddhist Education and the topic of generosity came up.  When we think of generosity we usually think in terms of donation of some kind, maybe money or something physical.  We were thinking in terms of those kinds of things that do not cost or involve money.  Each of us was encouraged to write down a few things that were acts of generosity.
What came of this was some very simple thing we usually take for granted, like a smile or a cheerful greeting.  Such a gesture can turn a persons' day from not so good to better.  It is sometimes difficult to tell what kind of day a person in may be having. They may have had a problem with a customer or their boss or with something at home so your smile, maybe some talk story might lift them up a little and neither costs anything. 
Someone said, listening.  As you know listening is a major practice in Shin Buddhism.  There are times when listening can be a very comforting and generous thing to do.  It can be done anywhere and if you can empathize a little or put yourself in someone else's shoes, that would be all the better.   When my PTSD about Viet Nam emerged, the VA, at that time, was farming patients out to civilian Psychologists.  On my first visit when the doctor asked me what was going on in my life, it was like a dam burst in me.  I started motor mouthing to him about what was going on in my life and it was quite a bit.  After an hour and a half, I finally to a breather and the doctor then asked me, "How do you feel now?"  I felt like a ton of bricks had been removed from my back, I was, for the first time in a long time, completely relaxed.   That is what his listening to me did for me, I was amazed.   This was in Denver and I realized that I had had anyone to talk to for a long time.  Listening can be a beautiful gift to someone, never underestimate that even if it is just talk story.  I think that talk story is Hawaii's gift to the world. A simple act like that can make a person's day, make them feel welcome and put them at ease.
How about visiting someone in the hospital?  When I had had my heart attack and went to Wilcox, everything happened so quickly that I did not even have a chance to call the temple president to tell her what was happening and were I was.  By early evening I was on a plane bound for Straub on O'ahu.  A couple of days after my operation, I had a visitor, someone I knew from my Hilo days and he brought me a beautiful flowers.  I cannot tell you how good it felt to have that visitor come see me.  I shall always be grateful for that visit.  I am sure that there were others who would have visited me but it all happened so fast that before I knew it I was making a reservation to return to Kauai.  I did receive a great many get well wishes though which encouraged me to get better.
I know sometimes the people we visit in hospital may not be conscious or be in a coma.  It is said that someone who is in a coma is able to hear the voices around them, so, you can still offer words of encouragement for their recovery.
When I was working at the Hilo Betsuin I remember an incident where I was walking from my residence to my home, deep in thought, when I passed a few members talking story by the social hall.  One of the men saw me and said "Hey, come here, why you in such a hurry?" and started talking story with me.  I had not realized how stressed I must have looked but when he called me over and talked story, I soon relaxed.   It made my day a little easier to go through thanks to him.
There are many, many forms of generosity that do not cost a cent but can have lasting effect on people, think about it.
Namoamidabutsu
Happy New Year 2020
Shaku Arthur Kaufmann
Ondogyo, Ondobo Akemashite Omedeto Gosaimasu!
Friends and fellow travelers on the Nembutsu Path, my wife and I along with our family would like to wish you all a Happy and Prosperous New Year!    
     Your efforts and dedication to the Lihue Hongwanji Mission over the past year have demonstrated the strength and dedication of our Sangha.  The maintenance and improvements made to our temple and its facilities by the Hosha Gang and friends of the temple have, and will, benefit the Lihue Temple as well as the community in which we live.  The gifts and support of our BWA, the staff and parents of the Lihue Pre-School have helped to bring the reality of the Buddha's teachings of interrelations, interdependence into this life we are living for all to see.  The further support of our activities of the Ki Aikido Club and the Kendo School are gratefully acknowledged by our Temples' Membership. 
       As we enter the year 2020 I have the privilege of being in the second year of being your Resident Minister here at Lihue.  I continue to learn and grow in the process of becoming a Minister and, as promised, I have made mistakes but not without learning from them.  I hope I have also contributed positively to ways to the life of this Temple.
     This New Year will bring both challenges and celebrations to our Sangha as temple facilities are improved and we also acknowledge the 120th Anniversary of the Lihue Hongwanji Mission of Hawaii.  I humbly ask for your continued guidance and support as we work together to fulfill our goals for this coming year of 2020.
     As we live this life of change, let us do so joyously and with Thanksgiving for the gifts of Infinite Wisdom and Boundless Compassion of Amida Buddha and the gift of the Pureland Teachings which support our spiritual lives.
      Thank you, Happy New Year and Namuamidabutsu.
Humbly in Gassho,